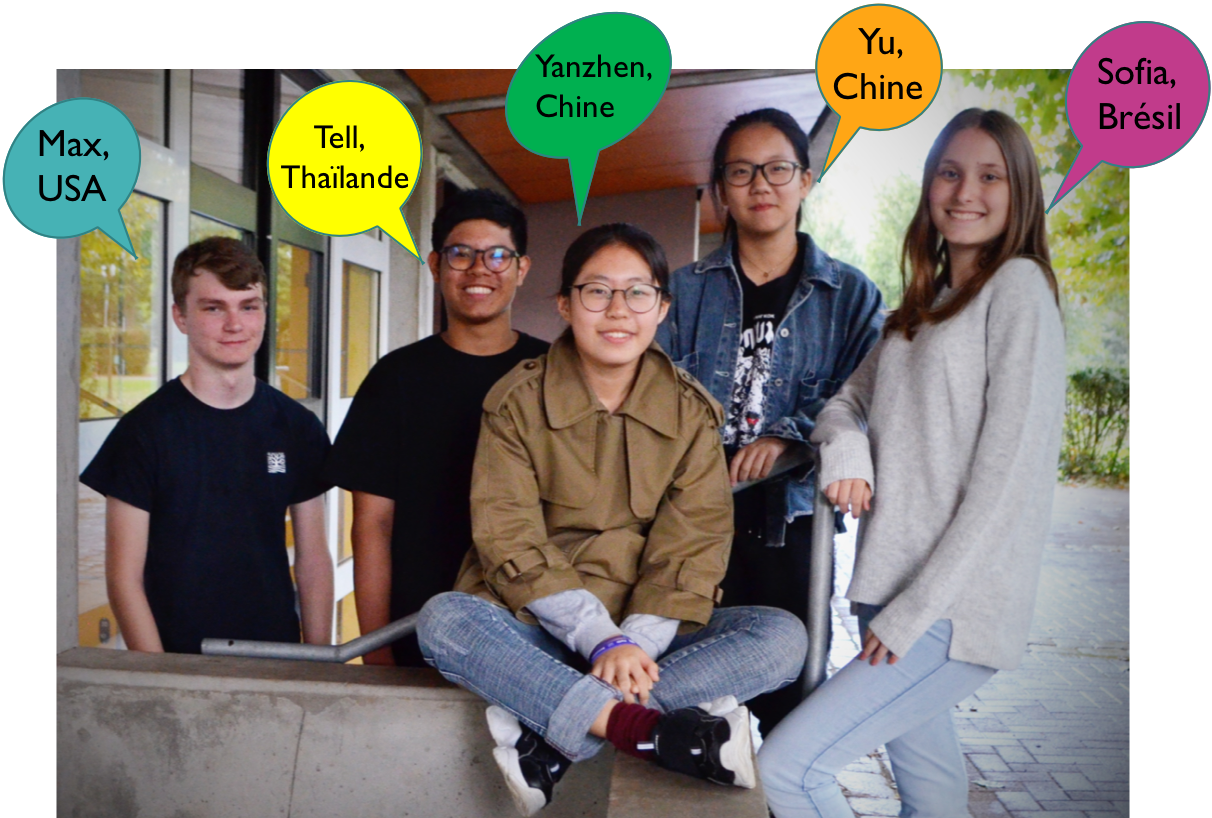 Accueillir ou partir pour découvrir le monde
Accueillir des élèves du monde entier, donne à l'établissement une résonance internationale. Nos élèves découvrent à travers ces ambassadeurs des cultures, des pays et des langues.
Favoriser la mobilité des élèves et des enseignants pour ouvrir leur esprit au monde, les faire gagner en maturité grâce à des expériences uniques. Les inciter à construire des ponts avec les autres et bénéficier d'opportunités pour évoluer, telle est l'ambition du Sem'.
Les mobilités peuvent être : 
en groupe : parcourez

 les images des voyages et sorties organisées.

Individuelles : grâce à notre partenaire JEV-langues qui propose un programme de scolarité à l'étranger pour nos élèves ou un programme d'accueil d'élève étrangers dans les familles du Sem'.
"Never be afraid to try something new, remember the Titanic was built by professionals, but Noah's ark was built by an amateur"
Max
Kiln, ETATS-UNIS
Inoubliable !
ขอบคุณทุกคนๆที่ทำให้ปีนี้เป็นหนึ่งในปีที่ดีที่สุดและเป็นปีที่มีความสุขมากๆครับ
Merci à tous ceux qui ont fait de cette année l'une des meilleures.
Tell
Bangkok, Thaïlande
Obrigada ! Merci !
Sofia CASTELO DE SOUZA
Blumenau, BRAZIL
在Walbourg的生活愉快而充实,这将成为我一生中难忘的一部分,我会永远记得你们!
Yanzhen Yang
Changsha, CHINE
时间一晃而过,在过去的八个月中,学习到了知识,收获到了友情,也非常感谢大家在这段时间里一直以来的帮助
Yu Wang
Tongling, CHINE
"J'espère que vous avez appris quelque chose de moi (spécialement l'anglais pour les élèves) et c'était mon plaisir d'aider dans les classes et de partager ma culture avec vous tous."
Natalie GEIDEL
West Bend, ETATS-UNIS
Le Sem' de Walbourg est un établissement scolaire candidat* en vue de proposer le PDD. Cet établissement souhaite devenir une école du monde de l'IB. Les écoles du monde de l'IB partagent une même philosophie : un engagement envers une éducation internationale stimulante et de grande qualité, que nous considérons importante pour nos élèves.
*Seuls les établissements autorisés par l'Organisation de l'IB peuvent proposer l'un de ses quatre programmes scolaires : le Programme primaire (PP), le Programme d'éducation intermédiaire (PEI), le Programme du diplôme ou le Programme à orientation professionnelle (POP). Le statut d'établissement candidat ne garantit
Contact : noemie.celton@sem-walbourg.eu